Academic Resources
Aalimiyya Program
Our full-time Aalimiyya, or Aalim, program leads students to a mastery of the Islamic Sciences, including Arabic, Adab, Aqida, Fiqh, Tafsir, Hadith and more. Completion of the program certifies graduates as Islamic scholars.
Our part-time Aalimiyya course offers a rich and immersive learning experience for Muslims of all ages. The program is intended for individuals who wish to become more engaged in Islamic learning at a higher level than would otherwise be available.
Timings for part-time program:
Fridays 8PM – 10:30PM
Saturdays & Sundays 7:45AM – 12:30PM

Year 1
Year 2
Year 3
Year 4
Books
Year 1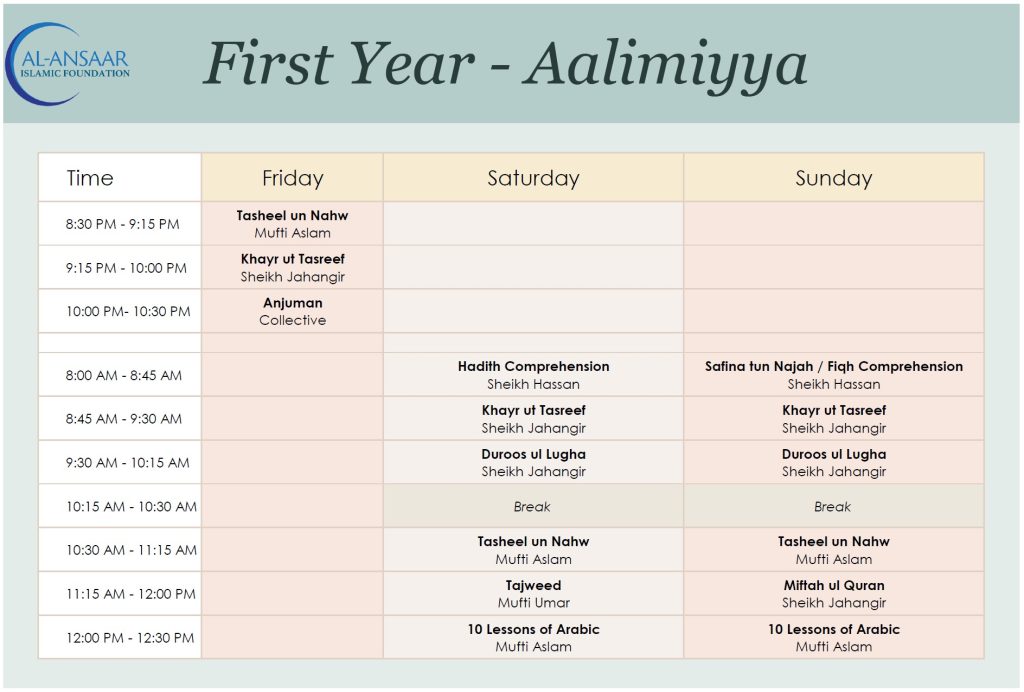 TAKRAR (Revision Class Time): Every Thursday from 8:30 PM to 9:30 PM.
NOTE: Bear in mind that Takrar time can and most likey will increase if more work is to be covered throughout the year.
Lastly: It is highly recomneded and expected to join the class in person as that has most benefit in terms of learning and going over any questions.
However, if due to any circumstance you cannot make it, you can join via Zoom and interact with the class virtually. Below is the link for the meeting.
NOTE: This link will stay the same throughout the year inshallah.
Zoom meeting link: https://ucalgary.zoom.us/j/4396581627?pwd=bTY0bHBGT0VyRkt3dlY3emJOK1Ywdz09
Meeting ID: 439 658 1627
Passcode: 802253
Year 2
Year 3
Year 4
Books